Colored Mortars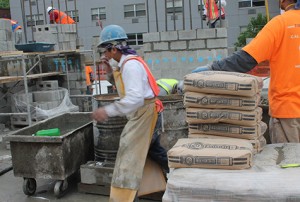 Our line of SPEC MIX colored mortars are engineered for maximum performance and consistency in the field. Each factory pre-blended batch is crafted using the highest quality ingredients and iron oxide pigments. This provides not only a consistent product, but allows your mason's to create a durable and beautiful project you can be proud of.
In order to achieve the perfect color each time, colored mortar must be preblended with all mortar constituents and pigments using a computer calculating system, while following a specialized process. When building owners and designers want a unique color that supports their idea for a project, the options for custom colored mortars are endless and consistent from batch to batch.
The SPEC MIX standard colored mortar line is a collection of 10 colors that are available in 80 lb and 3,000 lb bulk bags throughout North America.