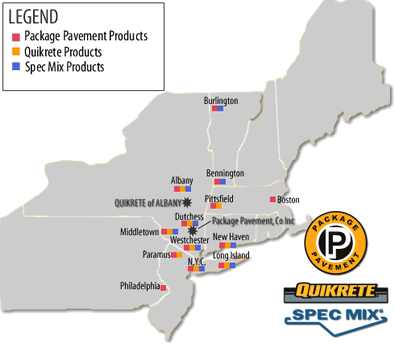 Package Pavement has two convenient locations in Stormville, NY (Dutchess County) and Ravena, NY (Greene County) to serve the Northeastern Region with bagged concrete, blacktop, mortar, and repair products. Both Plants offer either pickup or delivery options to suit your needs. For directions to our plants click here. The map to the left gives a general idea of where we service and the product lines we offer.
Currently we offer all of our product lines (Package Pavement, Quikrete & Spec Mix) in all of Suffolk, Nassau, New York City, Kings, Queens, Bronx, Westchester, Rockland, Putnam, Dutchess, Orange, Ulster, Sullivan, Greene, Columbia, Albany, Warren, Schoharie, Saratoga, Schenectady, Fairfield, New Haven, and Litchfield Counties. We offer service, for products in Bergen County in New Jersey and Berkshire County in Massachusetts (Quikrete Products Only) We offer Spec Mix to the State of Vermont, The Eastern Half of New York, and Western Half of Connecticut. With over 50 years of manufacturing blacktop, concrete and repair products, Package Pavement has the know-how and experience to offer our customers exceptional service and solutions for your next project. Call us today (800) 724-8193 for more information.
WHAT WE OFFER…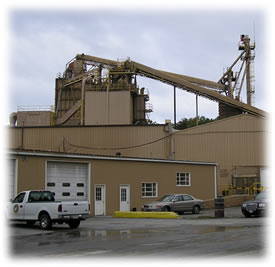 Delivery Provided by Company Owned and Hired Trucks.
We use the Latest in GPS and Inventory Programs for efficiency and service
By shipping within a time frame unsurpassed in our industry.
By offering self-unload when necessary (Piggyback Delivery Service)
By assuring quality information on projects and products from our staff. (Call us with your questions before doing the job (800-724-8193)
Below we have provided different ways to contact us as well as directions to our locations and information about employment with us. Should you have any questions, please do not hesitate to contact us.
If you have any questions about the products we offer or would like to set up an appointment* with one of our sales representatives, e-mail us at: sales@packagepavement.com
Or Call Us today: Phone: (845) 221-2224 (NY, NJ & CT)
Fax: (845) 221-0433
 Add submittable form – notifications to: sales@packagepavement.com
*PLEASE NOTE: If you are looking for Quikrete or Spec Mix Products outside of the Tri-State Area (NY, NJ, CT) please contact directly:
www.quikrete.com at 1-800-282-5828
www.specmix.com at 1-888-773-2649