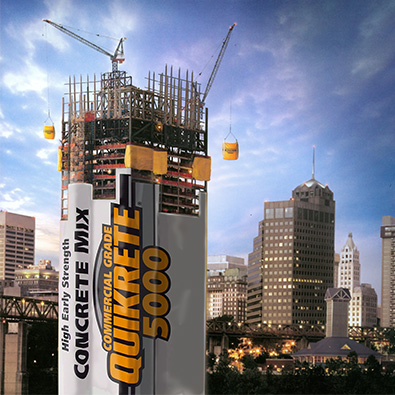 Since 1940, The QUIKRETE® Companies have produced more than 200 professional-grade and consumer products which fall into one of four categories: core products, commercial grade products, specialty products and repair products. Through these product lines, The QUIKRETE® Companies offers concrete and mortar mixes, cements, concrete repair products, stucco, waterproofing, tile setting and blacktop products, floor underlayments, sand and aggregates, and other seasonal items.
Each one of the QUIKRETE® Licensed manufacturer's product lines are continuously evaluated and tested to ensure the best possible product quality. QUIKRETE® is also dedicated to creating new products at their Technical Center, where they undergo product stress and durability tests. All QUIKRETE® products are rigorously tested to maintain high standards. It all began in Columbus, Ohio, in the early 1940s. Gene Winchester was General Manager of Maintenance Products, Inc., a company that produced stucco for commercial uses. This company eventually became The QUIKRETE® Companies.
QUIKRETE® concrete is used in building and refurbishing commercial projects all around the United States. QUIKRETE® products have recently been used in diverse projects that include the National Museum of the American Indian (2004 Masonry Construction Project of the Year), the Georgia World Congress Center, the Boston Convention Center, as well as sports venues that include Safeco Field in Seattle, Coors Field in Denver and historic Fenway Park in Boston.
PACKAGE PAVEMENT became a licensed QUIKRETE Manufacturer in the early 1980's. Since then we have provided distribution to the Tri-State region of New York, New Jersey and Connecticut.