Innovation
It's in our DNA.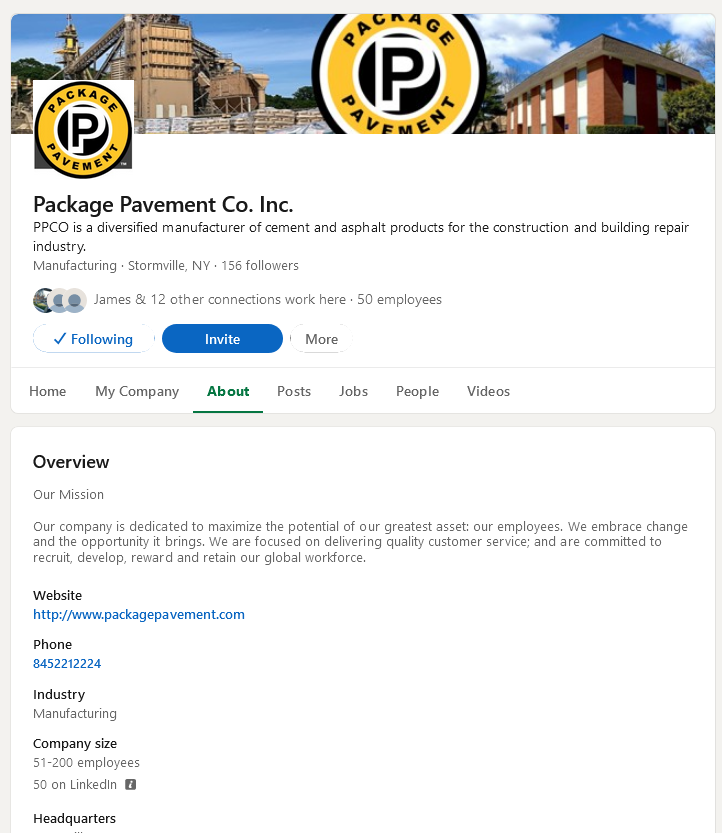 New ideas have been driving Package Pavement since 1951, when Walter G. Doherty began selling "A City Pavement in a Paper Bag" and revolutionized the use of cold-patch asphalt.
1960s: Package Pavement began offering Just-In-Time manufacturing and delivery. Walter Doherty developed the Plug-R, a solution to the problem of bar holes becoming potholes that is still in use today.
1980s: The decade was off to a great start when we became a licensed Quikrete manufacturer, expanding our offerings and growing our market across the tri-state area. Our Utility Mix Blacktop Bag became the product of choice for utilities seeking to repair cutouts for sewer, water and electrical work. We also acquired one of the first IBM 5110 computers in the area and used it to streamline sales, inventory and accounting.
1990s: By becoming a licensed Spec Mix manufacturer, we expanded our capacity to serve the commercial mason industry with factory blended products.
1999: We expanded our production capability by acquiring our Ravena facility, in Greene County, New York.
2000s: The first self-unloading trailers were added to Package Pavement fleet, allowing us to deliver with manned forklifts and boom trucks at limited-access construction sites. A fluid bed dryer installed at our plant in 2007 has handled over two million tons of material since.
That same year, we launched our company-wide LEAN, CLEAN, & GREEN initiative to maximize our energy efficiency and reduce waste.
2010s: We started the decade off right, becoming members of the US Green Building Council. The commercial market continued to expand and demand for colored mortars started taking off. We implemented an in-house designed color matching system that integrated our pigment batching to manufacturing. In 2019, we added scanners to our loading dock process.
2016: We added what is known as our Fine line to the Ravena facility increasing our ability to produce more Spec Mix Mortars and Grouts.
SEVENTY-PLUS YEARS YOUNG…
As technology has advanced over the past dozen years, Package Pavement has kept pace, keeping both our hardware and software on the cutting edge, fulfilling the legacy of our founder's creativity and constantly seeking to improve the solutions we offer to your concrete needs.
In 2019, we increased our screen size on the Qline and in 2020, added a new aggregate packaging line in our Ravena operation. In 2021, our 70th anniversary year, we dipped a toe in the social media waters for the first time.
2022: On our Qline we increased the screen size in Ravena to further improve our production capacity.
From ordering to delivery of your custom, color-matched product, our systems simplify every step. In 2022, we implemented an entirely new customer service platform. We're already using it to streamline our internal processes and offer paperless delivery. By the end of 2022, we added our new Customer Portal that allows our customers to retrieve important business information.
With our enhanced efforts with social media, we've helped customers get to know us and share the journey, celebrating our great people, latest developments and intriguing projects. Come join us on the cutting edge of concrete solutions!
Kicking off 2023, we are working on the final piece of our new service platform that will allow our partners to place orders through their very own ecommerce site.