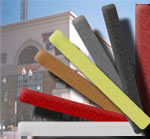 Color matching mortars is a bit science, a bit art and a little bit of luck mixed in. The good news is we have developed a program which can provide you with the most representative sample in an industry leading time frame. Our large reference library with thousands of matches is often the first step in producing a perfect match to your mortar chip.
To expedite the matching process we need your help.
How?
If you are submitting a sample to your salesman or mailing it direct to our facilities, we ask that you provide the most representative sample of the mortar joint(s) you want to recreate.
This representative sample should be relatively flat, and uniform in color. We ask that the chip be larger than 1/2″ and smaller than a concrete block. The mortar chip should also be free of dust and debris. The best location to acquire a mortar chip is typically mid wall around eye level. Also try to avoid locations near windows, awnings or doors.
Checklist for Mortar Samples:
Representative of Wall Color
Uniform in Color
Greater than 1/2″ in Size
Clean of Dust and Debris
When?
Our color technicians are on the job within 24 hours of receiving samples. Our matches to the samples are provided in channels for on-the-job inspection, typically one week after we received the sample. Once a color chip or chips are selected we provide a sample bag for mock-up. This will enable a field test of the match with the masonry unit.
Each job is given the utmost care to ensure not only a good match, but to also provide a color palette whereas the architect building owner and mason can all meet the goal of finishing the job on-time and to the original vision of the project.