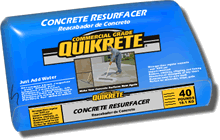 This special blend of Portland cement, sand, polymer modifiers and other additives is designed to provide a shrinkage compensated repair material for making thin repairs to sound concrete in need of surface renewal. The surface must be pressure washed before using. Quikrete® Concrete Resurfacer which must be mechanically mixed.
Curing the New Surface:
Under normal conditions no special curing is required. Keep temperature above 50ºF for 24 hours after finishing.
Coverage for Squeegee Applications
| | | | | |
| --- | --- | --- | --- | --- |
| Approximate number of bags required | | | | |
| Area (sq. ft.) | 90 | 180 | 360 | 720 |
|  Approx. 1/16″ thickness |  1 | 2 | 4 | 8 |
Coverage for Thicker Applications
| | | | | |
| --- | --- | --- | --- | --- |
| Approx. numbers of bags needed at thicker applications | | | | |
| Area (sq. ft.) | 40 | 80 | 160 | 320 |
| 1/8″ average thickness | 1 | 2 | 4 | 8 |
| 1/4″ average thickness | 2 | 4 | 8 | 16 |
| 1/2″ average thickness | 3 | 6 | 16 | 32 |