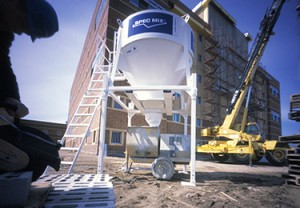 Productivity and efficiency are directly related to the profitability of any project. The SPEC MIX® patented silo system is proven to increase job-site productivity of an entire crew by making the material mixing station more efficient and consistent, no matter who is making product. Understanding that each project brings new challenges, the versatility of our silo systems provide contractors solutions for the toughest and most diverse site conditions. SPEC MIX® Silo Systems are engineered for simple and safe operation. Since no water or electrical sources are required, all you need is a standard forklift to set up, charge and relocate the silo, using half the space of conventional mix stations. No need to stockpile, cover, and protect raw material piles.
With four silo configurations to choose from, contractors can select the silo system that best meets the job site demands for interior or exterior work. SPEC MIX® dry, pre-blended products, coupled with weather-resistant silos, allow work to continue through all seasons, enabling contractors to remain productive year round. The SPEC MIX® philosophy is keep going, keep moving, keep working. This is what gets the job done!
Advantages
Consistent Material (mix will not vary between masons)
Consistent Color (computer controlled – not shovel controlled batches)
No Stockpiles (contamination and raw material theft / loss eliminated)
No Frozen Material (dry blended product – will not freeze)
Limited Waste (silo dispenses material directly into the mixer)
Increased Productivity (centralized mortar station where you need it, when you need it)
Decreased Mix Time (material pre-blended add water & go)
Product Made to Order (less time coordinating, more time building)
Safe Operation (eliminates backbreaking shoveling and hand moving material)
Hooded Material (ideal for storage outdoors on-site)
Individually Labeled Bulk Bags (know exactly how much material used on job)
Spec Mix® Experience (thousands of job-sites per year of all sizes and colors)
Safety First
The SPEC MIX® Silo system requires safe assembly, charging (loading), operation, and transportation. To ensure this please follow the steps of safe assembly and operation (Click Here). Any question call us @ (800) 724-8193.
Check out our full Spec Mix Product Line…(Click Here)
Visit their site @ www.specmix.com for more details