The coolest thing to hit bricklaying, ever.
It started in 2003, at the World of Concrete trade show in the Silver Lot of the Las Vegas Convention Center. The SPEC MIX, Inc Mission: To host the best bricklaying competition in the country, if not the world, and provide a platform for the craftsmanship and stamina of great masons.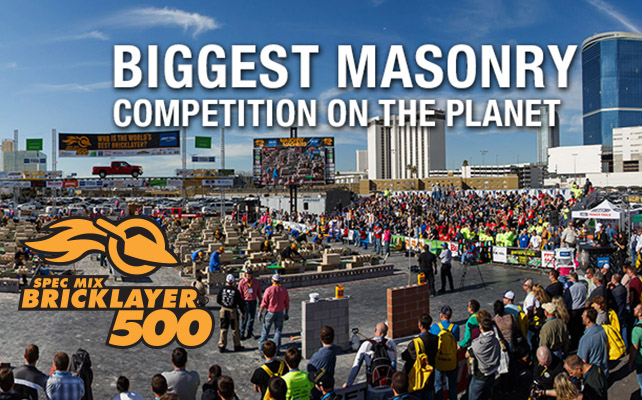 And why not? Masonry is one of the oldest, most respected professions in human history. It's hard to think of anything more deserving. Masonry keeps things dry, warm, safe and beautiful.
Thanks to years of dedication, unbelievable sponsor support, and industry patronage, the SPEC MIX BRICKLAYER 500 is a success for the masonry trade and a dream come true for the SPEC MIX team. 
Visit the OFFICIAL SPEC MIX  BRICKLAYER 500 Website®
Over the years, we've  added 16 regional qualifying competitions and even international competitors, undergone some rule changes, attracted additional sponsors, and now include a LIVE world-wide web stream of the National.
A World Class Attraction for World Class Bricklayers
Today, SPEC MIX BRICKLAYER 500 is the masonry and concrete world's single greatest attraction drawing as many as 4,000 live spectators, seen by as many as 7,000 internet viewers every year. (So we're not the Super Bowl. But that's a bunch.)
SPEC MIX BRICKLAYER 500 National draws in the best bricklayers and mason tenders from qualifying contests  across North America to answer one question: "Who is the World's Best Bricklayer?" Twenty two-man teams made up of a mason and mason tender compete to lay the most bricks while meeting strictly defined quality standa
Congratulations to all of the winners for 2021
CHAMPION:
David Chavez, Ranch Masonry, Houston, TX
Brick Count: 678
TOP CRAFTSMAN:
Darian Douthit, Providence Masonry, Miami, OK
Brick Count: 545
SECOND:
Brian Tuttle, Quik Trowel Masonry, Clearfield, UT
Brick Count: 618
THIRD:
Marty Marrs, Marrs Masonry, Terre Haute, IN
Brick Count: 615
TOUGHEST TENDER:
Steve Braswell, John Smith Masonry, St. Louis, MO
Time: 14 MIN, 49 SEC