A Higher Standard Grout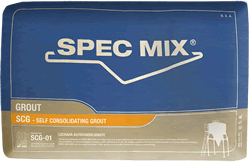 SPEC MIX Self Consolidating Grout (SCG) is designed to completely fill cores in masonry units at a higher rate of flow than standard masonry grout. All the constituents of SPEC MIX SCG are dispersed and suspended evenly throughout the masonry core to eliminate mechanical consolidation or reconsolidation during or after placement at any lift height. Need structural reinforcement (core fill) grout? SPEC MIX SCG creates a high quality structurally reinforced masonry assemblage.
Bond, Fill And Reinforce With SPEC MIX Self Consolidating Grout
SPEC MIX® SCG is a dry pre blended grout designed to be highly fluid without segregation of its constituents. Produced in fine or coarse mixtures, it's used to bond adjacent masonry units, fill bond beams and occupy all areas around steel reinforcement in the cores of the masonry assemblage without mechanical consolidation or reconsolidation.
Benefits Guaranteed With SPEC MIX SCG
Saves labor while providing enhanced performance over standard grout products and conventional grouting techniques. 
Provides superior fluidity over conventional core fill grout with increased cohesion, while offering excellent resistance to segregation of the fluid grout mix.
Produces masonry cores without voids, even around heavily congested reinforcing steel and other obstructions
Easily, completely fills masonry cores with no consolidation effort )mechanical vibration)
Ensures high structural integrity of both reinforced and unreinforced masonry assemblages.
Consistency in Every Batch – Just Add Water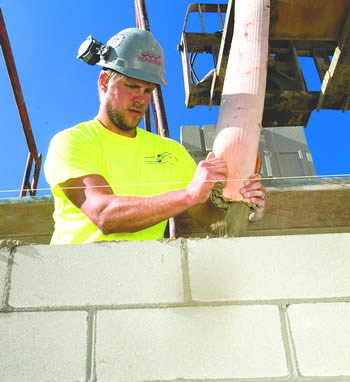 Just add water to produce a self consolidating grout with total quality control and consistency in every batch,  ready to use as needed. 
Like ordinary grout, SPEC MIX SCG should be installed in accordance with the provisions of the local building code, ICC, MSJC, and The American Concrete Institute's requirements and specifications ACI 530/530.1 Building Code Requirements for Masonry Structures and Specification for Masonry Structures. SPEC MIX SCG may be used in both low-lift and high-lift applications. Special consideration should be used in selecting the type of grout used for a particular application. (See ACI 530-05 table 1.16.1) SPEC MIX SCG may be placed by hand or by mechanical delivery.
Designed Using Standards You Can Trust
As a licensed SPEC MIX manufacturer, Package Pavement certifies that our grout products are designed to meet ASTM property requirements for core fill grout. A digital print out displaying proper proportions of each batch may be kept as a permanent record before the SCG is completely pre blended and packaged in the appropriate size bag. SPEC MIX SCG is accepted for all types of masonry construction with submittals available upon request.
SPEC MIX® Self Consolidating Grout – SCG (Fine & Coarse)
A dry pre blended core fill grout designed to be highly fluid without segregation when placing into masonry units. Available in Coarse and Fine.
Use For
Masonry Cores
Masonry Wall Reinforcement
Around Rebar in Walls
Available In
80 lb. bag – 42/Pallet
80 lb. bag – 30/Pallet
3000 lb. bulk bag